Ralf Rangnick criticises Marcus Rashford in shocking press conference – Man United News And Transfer News
Marcus Rashford's form and work rate was put under scrutiny during Ralf Rangnick's press conference yesterday ahead of Manchester United's trip to Aston Villa.
When asked whether he felt his United team have an 'elite mentality', Rangnick singled Rashford out for criticism.
'If one of our players wasn't giving his very best and putting his all into it, I would address that to him, you can be sure of that,' he said.
'So far I haven't seen that, but still, with the some players they start well and slow off a little.
'If we speak about Marcus Rashford for example, I think in the first twenty minutes of the game against Aston Villa he was good, on fire and was constantly involved.
'But then after that, he didn't play on the same kind of energetic level that he did in the first half-hour.
'Of course we need to speak about that because he cannot do that regularly.
'Does he need a helping hand? What does it take?'
The England man looked a dejected figure on Monday, leading to reporters asking the boss whether he should be rested from the team.
'He is trying to give his very best and he does show that in training,' the boss replied.
'There have been a couple of training sessions over the past few weeks when he has performed at the highest level and that is why I always give him the chance to play again.
'As long as he does that, he will always make my list to be involved within the starting XI. Of course, it's about showing that on a regular basis and continuously playing at a high level.
'For him though, like anyone else, there is still room for improvement.'
The manager is taking a risk by singling out a player and questioning his mentality in this way. It could motivate the 24 year old to pull his socks up and show everyone he is committed, but it could have the opposite effect, further undermining his confidence and his happiness.
Whether Rashford will have the opportunity to address the criticism in today's match against the same opponents will become clear when the team is announced at 4.30pm.
Ralf Rangnick says Victor Lindelof will not play against West Ham United tomorrow – Man United News And Transfer News
Manchester United manager Ralf Rangnick says Victor Lindelof will be absent and Jadon Sancho doubtful for his side's important home game against West ham United.
Speaking at the pre-match press conference ahead of the game, the boss said Sancho was still coming to terms with a death in the family.
'He didn't train yesterday because he asked to be able to not train because he attended that funeral on Wednesday and it still affected him quite a lot,' Rangnick said.
'He will be back to training this afternoon at three o'clock but right now I'm not sure if he'll be available for the game tomorrow.'
The manager also revealed that Victor Lindelof had asked for a leave of absence after a break in at his house.
'I spoke with him at length on the flight back home from London and I also spoke to him this morning for 20-25 minutes,' the boss said.
'He told me what had actually happened and this was a really traumatic event, especially for his wife and even the three year old son.
'He said to me right now he needs to stay at home, he doesn't want to leave his wife and his family on their own, which I can fully understand, being a father of two children myself.
'I agreed that he will not be training today and he will not be on duty tomorrow for the game.'
The manager was also asked whether Jesse Lingard would be leaving in the current transfer window.
'For me it's normal that other clubs for example Newcastle show interest in him but I'm not the one who's dealing with that,' he said.
'So I know there might be some interest from other clubs but if you ask me now what will happen in the next 10 days before the end of the window, I cannot answer that question I'm afraid.'
Man United Predicted XI vs West Ham United: Marcus Rashford to be recalled – Man United News And Transfer News
Ralf Rangnick could keep the same Manchester United starting XI that beat Brentford in midweek for tomorrow's home game against West Ham United.
Of that starting lineup, Scott McTominay is the only doubt after picking up a back injury although Rangnick indicated after the game that he expects him to be fit in time for tomorrow.
However, despite the glaring need for consistency that could be aided by fielding an unchanged side, two games in three days could be a tall order in terms of fitness levels.
Both Mason Greenwood and Cristiano Ronaldo were subbed against Brentford – much to the latter's obvious disapproval – which was probably done with freshness in mind. We therefore expect them both to start the game.
19-year-old Anthony Elanga did play the full 90 minutes, so despite scoring and winning the manager's praise after the game, he could well return to the bench. Fellow goalscorer Marcus Rashford could be reinstated in his place.
Jadon Sancho is another option but Rashford's goal and performance off the bench should encourage Rangnick to keep the ball rolling.
Edinson Cavani missed Wednesday's game with muscle problems and is unlikely to feature, although he has not been ruled out as yet.
Bruno Fernandes appears to have found his form in the new 4-3-3 formation, playing as a number eight in the three-man midfield. He will almost certainly keep his place after two goals and two assists in the last two games.
If fit, McTominay could start alongside him with Fred making up the trio, although Nemanja Matic could step in. Donny van de Beek also remains an option, but is rarely selected. Paul Pogba is back in training but will not be ready for selection.
In defence, Aaron Wan-Bissaka's illness and Luke Shaw's hamstring problems appear to have ruled them both out, so Diogo Dalot and Alex Telles will almost certainly occupy the full back berths.
Rangnick has a tough decision to make at centre back, with Harry Maguire now fully fit again. Victor Lindelof and Raphael Varane have started to form a decent partnership but leaving the captain and the club's second most expensive signing on the bench again is a big call.
Eric Bailly remains on duty at the Africa Cup of Nations.
With David de Gea a nailed on certainty to continue in goal, this, then, is our predicted line-up for tomorrow's game: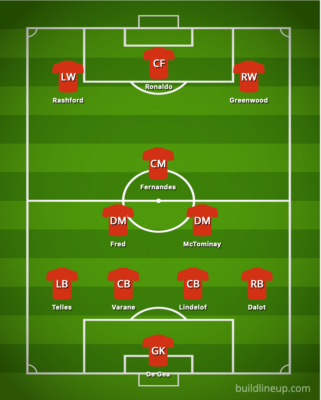 Ralf Rangnick says he is impressed with Paul Pogba – Man United News And Transfer News
Manchester United manager Ralf Rangnick says Cristiano Ronaldo and Marcus Rashford should be fit and available for tomorrow's trip to face Brentford at the Community Stadium.
Speaking at the pre-match press conference ahead of the match, the boss said:
"Cristiano and Marcus were training yesterday so I suppose they will also be training today, although at the press conference ahead of the Villa game I was also convinced Cristiano was fit and he wasn't, same with Marcus, so we'll have to wait for the training session today in about an hour's time.
"Right now I think they could both be available."
The manager was also asked about Paul Pogba's return to fitness.
"Paul Pogba had his first day of training with the group yesterday, and in his first session he showed what kind of an extraordinary player he could be," Rangnick said.
"He will not be available for the two games this week but hopefully after the international break, when we have the cup game against Middlesbrough and the away game at Burnley, I think he could be an option."
"What you could see from the very first day in training is that he's present, he's physically very present, and what I saw in training yesterday is very promising for the future.
"I think he will be a serious candidate for the first eleven."
Further questions were posed about the public disagreement with Anthony Martial over whether he refused to play against Aston Villa.
"I had a personal conversation [with Martial] on Sunday about what happened and how I saw things," the German said.
"The matter is now resolved.
"He didn't train yesterday and the day before yesterday, he will probably train today and after training I will take the decision about whether he's nominated or not."