Jadon Sancho continues fine run of form despite dropped points against Southampton – Man United News And Transfer News
Manchester United squandered another one-goal lead against Southampton at Old Trafford today, but one silver lining was the continued improvement of winger Jadon Sancho.
The England man was one of United's best players and has gone from strength to strength under Ralf Rangnick's tutelage.
According to Statman Dave, Sancho achieved 77% pass accuracy, had 45 total touches, completed 11 out of 13 final third passes and attempted four dribbles.
He also completed 2 out of three long passes, created a big chance and, of course, scored United's goal.
Sancho also put in a good defensive shift, pressing well and making seven ball recoveries.
Jadon Sancho's game by numbers vs Southampton:

77% pass accuracy
45 total touches
11/13 final third passes
7 ball recoveries
4 attempted dribbles
2/3 successful long passes
1 big chance created
1 goal

A bright spark for Man Utd today. 🏴󠁧󠁢󠁥󠁮󠁧󠁿 pic.twitter.com/YCyKU19n9h

— Statman Dave (@StatmanDave) February 12, 2022
Sancho also had two shots, both on target, and made two interceptions.
There is still room for improvement, though, as according to sofascore.com, the former Borussia Dortmund star lost possession 12 times during the game and won only one of five ground duels.
The 21 year old's recent form has been a revelation and he was singled out for praise by Rangnick after the game.
'This is the Jadon Sancho I know from the Bundesliga,' the boss said.
'The way he is playing at the moment is the best Jadon Sancho we have seen for United.'
Rangnick: "This is the Jadon Sancho I know from the Bundesliga and the way he is playing at the moment is the best Jadon Sancho we have seen for #mufc." #mulive [bt]

— utdreport (@utdreport) February 12, 2022
Rangnick must be given some credit for the winger's improvement, playing him off the left wing but allowing him to cut inside, as his heat map demonstrates.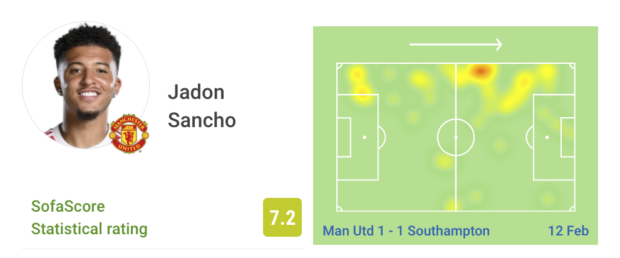 Erik Ten Hag believes he can transform a lot of young players at the club
Manchester United News: Erik ten Hag is adamant about developing Manchester United's young talents and turning their promise into titles – and revenue.
The Dutchman has been assigned the task to transform the entire team in the summer transfer window. The 52-year-old Dutch is known for his exciting style of football and wants to sign players accordingly for the team.
It was well known during his Ajax days, how much he backed himself to improve a certain player and things won't be different in Manchester. There are reports that suggest that he feels he can improve young players like Jadon Sancho, Marcus Rashford, Scott McTominay, and Anthony Elanga.
Ten Hag said his goodbyes to the Dutch champions in their final Eredivisie match of the season. The dynamic manager is aiming to duplicate the Ajax model by raising player worth through his world-class coaching.
Manchester United News: What did Ten Hag say?
READ MORE: Lampard Provides an Update on Dominic Calvert-Lewin
"Several clubs are now scouting Ajax's best players. If they are sold, they will bring a lot of money to Ajax."
"Ryan Gravenberch, Jurrin Timber, Brazilian forward Antony, and Sebastien Haller are all grabbing headlines. We have a good group of players that can play anywhere in the world. Once again we built a club that is both athletically and financially valuable "
"Ajax will sell players for at least another 100 million euros this summer," says a source. Gravenberch, 19, is slated to join Bayern Munich this summer. Whereas Timber, a central defender, and Antony, a striker, remain targets for United in the summer window.
A long list of players improved by the Dutchman
READ MORE: Cristiano Ronaldo Talks about Erik Ten Hag for the First Time!
Ten Hag oversaw the development of some of Ajax's most promising young players in recent years. The sale of those players resulted in a £372 million profit for the club when they were sold. In 2019, Barcelona and Juventus jointly paid in excess of £115 million for midfielder Frenkie de Jong and defender Mattijs de Ligt.
Chelsea spent £36 million for Hakim Ziyech in 2020. Whereas Donny van de Beek was sold to Manchester United for £35 million the following summer.
The Dutchman is leaving the club after four-and-a-half years. Chief Executive and former Old Trafford and Fulham goalkeeper Edwin van der Sar hope that he returns to Amsterdam after his time at United.
What did Van der Sar say?
"Right now, the best I can say is that Erik is departing Ajax through the front door. I wish him luck at Manchester United and hope to see him here again soon."
The coach raised eyebrows when dedicating the Dutch title success to disgraced former Director of Football Marc Overmars.
Overmars, a former Arsenal winger, brought ten Hag to Ajax from Utrecht in 2017. He was the main reason that Ten Hag settled in nicely at the club in his debut season.
The Red Devils are set to lose millions thanks to the Champions League clause
Manchester United News: If the Red Devils do not finish in the top four this season, they will face yet another financial setback.
The German IT company Team Viewer took over as United's kit sponsor a year ago. They replaced Chevrolet in a five-year deal for roughly £235 million. However, if United fails to qualify for the Champions League next season, the £47 million-a-season contract's performance-related bonuses will be forfeited.
The same can be said for Adidas, which has a Champions League stipulation in its contract with Manchester United. When the deal with Adidas was announced in July 2014, it shattered all football kit records.
The 10-year deal was worth a maximum of £750 million. However, United had to compete in Europe's top club competition each season to get the entire amount. Following the cancellation of United's sponsorship arrangement with Russian state airline Aeroflot, the club now faces severe financial difficulties following yet another season of underperformance.
Manchester United News: Deal with Aeroflot cancelled because of the Russian invasion of Ukraine
READ MORE: Leeds United's Kalvin Phillips is on United's Radar! 
With the fallout from Russia's invasion of Ukraine, United had no choice but to end its nine-year partnership with Aeroflot. The contract was about to expire next year.
Many corporations want to be associated with United. They want to get access to players like Cristiano Ronaldo, Paul Pogba, Bruno Fernandes, and Marcus Rashford through their sponsorship arrangements.
The club's failure to win major championships in recent years hasn't had a significant impact on sponsorship revenue streams. Top executives at United, on the other hand, understand how critical it is to get back on track as soon as possible.
In recent years, rival teams such as Manchester City and Liverpool have been far more successful on the pitch than United. City and Liverpool have significantly closed the gap off the pitch in the last five years.
What did Rangnick have to say about it?
READ MORE: Rio Ferdinand worried about Marcus Rashford's downfall
Meanwhile, Ralf Rangnick has stated that he is prepared to brief whoever takes over in the Old Trafford hot seat. Whether it's Pochettino or Erik ten Hag.
The 63-year-old German was selected as United's interim manager after the club ousted Ole Gunnar Solskjaer. However, he has already agreed to go into a consultant role with the Red Devils in the summer.
"I have already done this, not to any managers, but within the club," Rangnick stated. "I've told them how I feel about the current squad and what, in my opinion, has to happen."
"I communicated with board members on a regular basis, and they are aware of my expectations for the summer. I'll see what happens if he [the future manager] is interested and willing to talk about it. I won't force my perspective on him."
Rangnick criticised two players after Leicester draw 
Manchester United news: The Red Devils played a 1-1 draw against Leicester City at Old Trafford on Sunday.
Leicester took the lead in the game through Kelechi Iheanacho in the 63rd minute but they couldn't hold on to that lead for long. Fred scored the equalizer for the Manchester-based club just three minutes after Iheanacho's goal.
The Foxes looked to have scored the winner through James Maddison during the final minutes of the game. However, his goal was disallowed after consultation from the VAR as Iheanacho fouled Rafael Varane in the build-up to the goal.
The draw is a huge dent in the Red Devils' hopes of qualifying for next season's UEFA Champions League. The Red Devils managed to win just one of their last four league fixtures. They were also knocked out of this season's UEFA Champions League after losing to Atletico Madrid in a round-of-16 tie last month.
Manchester United news: Ralf Rangnick criticised Jadon Sancho and Anthony Elanga
Read More: The Red Devils have their eyes set on Antony if Marcus Rashford leaves in the summer
The Red Devils' manager Ralf Rangnick criticized Jadon Sancho and Anthony Elanga after a 1-1 draw against Leicester City.
Sancho missed an opportunity to score a winner for United late in stoppage time as he blazed his shot into the crowd from inside the penalty box.
Elanga was carelessly flagged offside when Marcus Rashford was approaching the six-yard box, shaping up to shoot at goal late in the second half.
Speaking to the media, Ralf Rangnick said: "Jadon should have taken two touches on the far post when Fofana slipped. And had Anthony Elanga stayed away from that ball when Marcus Rashford would have been completely free and either probably scored or it would have been a penalty.
Jadon Sancho joined the Reds Devils for £73 million from Borussia Dortmund at the start of the current season. However, he failed to justify his huge price tag, scoring just three goals in 25 league appearances so far. His performances for United received a lot of criticism from pundits and fans alike.
Sancho is among the best dribblers in the world but he tried just two dribbles against Leicester and completed just one. There are reports claiming that the Red Devils will look to cut their losses at the end of the season.
Meanwhile, Elanga break into the Red Devils squad this season. He scored three goals in 13 Premier League games so far.
Read More: Former manager Louis Van Gaal advises Erik Ten Hag NOT to take the United job
What's next?
Manchester United are currently seventh in the Premier League table with 51 points from 30 games. The Red Devils will next play Everton at Goodison Park in the league before hosting Norwich City at Old Trafford.
​