Ralf Rangnick criticises Marcus Rashford in shocking press conference – Man United News And Transfer News
Marcus Rashford's form and work rate was put under scrutiny during Ralf Rangnick's press conference yesterday ahead of Manchester United's trip to Aston Villa.
When asked whether he felt his United team have an 'elite mentality', Rangnick singled Rashford out for criticism.
'If one of our players wasn't giving his very best and putting his all into it, I would address that to him, you can be sure of that,' he said.
'So far I haven't seen that, but still, with the some players they start well and slow off a little.
'If we speak about Marcus Rashford for example, I think in the first twenty minutes of the game against Aston Villa he was good, on fire and was constantly involved.
'But then after that, he didn't play on the same kind of energetic level that he did in the first half-hour.
'Of course we need to speak about that because he cannot do that regularly.
'Does he need a helping hand? What does it take?'
The England man looked a dejected figure on Monday, leading to reporters asking the boss whether he should be rested from the team.
'He is trying to give his very best and he does show that in training,' the boss replied.
'There have been a couple of training sessions over the past few weeks when he has performed at the highest level and that is why I always give him the chance to play again.
'As long as he does that, he will always make my list to be involved within the starting XI. Of course, it's about showing that on a regular basis and continuously playing at a high level.
'For him though, like anyone else, there is still room for improvement.'
The manager is taking a risk by singling out a player and questioning his mentality in this way. It could motivate the 24 year old to pull his socks up and show everyone he is committed, but it could have the opposite effect, further undermining his confidence and his happiness.
Whether Rashford will have the opportunity to address the criticism in today's match against the same opponents will become clear when the team is announced at 4.30pm.
Ralf Rangnick explains Dean Henderson and Donny van de Beek loan and transfer situation – Man United News And Transfer News
Manchester United manager Ralf Rangnick says he wants Donny van de Beek and Dean Henderson to stay at the club for the rest of this season but that both would like to get game time.
Speaking at today's press conference ahead of tomorrow's trip to Villa Park to play Aston Villa, the manager said:
'I told [Henderson] that I'd like him to stay because he's a fantastic goalkeeper.
'Yesterday in training he made a couple of fantastic saves, I'd really like to have him on board as one of three top goalkeepers that we have.
'I fully understand he wants to play because he's at an age where as a goalkeeper you should regularly play, but on the other hand we're still in three competitions so we need the two or three goalkeepers we have right now.
'I told him that.'
'[Donny] is the same situation as it is with Dean.
'I'm glad to have him in the squad. He came on for the last 15-20 minutes in the cup game and did well.
'He's always performing at a high level in training.
'For him I had a conversation with him a couple of weeks ago.
'I advised him to stay until the end of the season.
'And then of course with the World Cup coming up in the winter he wants to play World Cup for his country, and Louis van Gaal told him to be a regular starter in the World Cup, he needs to regularly play for his team.
'We have a lot of competition in our squad in those positions.'
The manager's words suggested that he was not insisting that either player stays, leaving the door open for a January move.
Rangnick also confirmed that both Harry Maguire and Cristiano Ronaldo should be available for tomorrow's game.
'I think they will be available,' he said.
'They only trained yesterday for the first time, Cristiano trained today, Harry I think the day before yesterday
'So as it seems now, we have to wait for the final training session this afternoon but they should be available for tomorrow.
Donny van de Beek expected to start: predicted Man United XI vs Aston Villa – Man United News And Transfer News
Manchester United will be without Scott McTominay and Luke Shaw for their Premier League clash against Aston Villa in Birmingham tomorrow.
The pair are suspended having each accumulated five yellow cards.
United boss Ralf Rangnick admitted after Monday's FA Cup tie against the same side that he had learned United need to play with three in midfield, praising the impact of Donny van de Beek, who came on as sub in the 70th minute.
Those two facts, plus those that McTominay is suspended and Paul Pogba remains absent, would suggest that the midfield will almost pick itself, with Nemanja Matic, Fred and Van de Beek the only three recognised central midfielders available.
On the other hand, Rangnick could spring a surprise and play Bruno Fernandes in the number eight position that he made his own at Sporting Lisbon, but that's probably unlikely away from home.
In defence, Diogo Dalot has probably done enough to keep the right back slot ahead of Aaron Wan-Bissaka and Alex Telles will almost certainly deputise for Luke Shaw on the left flank.
At centre back, captain Harry Maguire is fit again and will probably return alongside Raphael Varane, although on current form both Victor Lindelof and Phil Jones might feel that they should start ahead of the England man.
Jones was reportedly neither injured nor dropped but 'rested' on Monday night and is in contention for a recall.
Phil Jones was 'more rested' against Aston Villa rather than actually being injured. He could come back into the team this weekend #mulive [@lauriewhitwell, talk of the devils]

— utdreport (@utdreport) January 13, 2022
Rangnick tends to like a twin striker system so given that he will adopt a 3-man midfield, he could play a single number 10 behind two strikers. If fit, Cristiano Ronaldo will probably return alongside Edi Cavani, with Bruno, Mason Greenwood, Marcus Rashford or Jadon Sancho behind them.
A front three of Ronaldo, Cavani and Fernandes seems unlikely as it lacks pace, so it could mean that Bruno is consigned to the bench again for this tie.
Sancho has been carrying a knock and Rashford was very poor last time out so Greenwood should get the call.
If either Ronaldo or Cavani are absent, we think it's more likely that Fernandes will stay in the number ten position, with one of the younger, faster players up front.
With all that in mind, here is our predicted starting XI for tomorrow's game: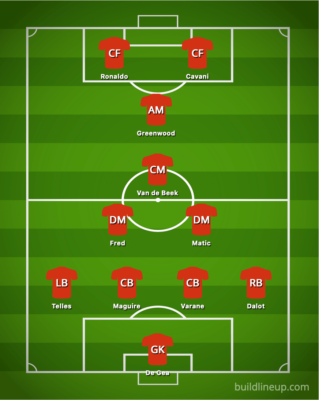 Ralf Rangnick has several big team selection decisions to make for Aston Villa tie – Man United News And Transfer News
A tricky FA Cup tie against Steven Gerrard's Aston Villa awaits the under-performing Manchester United tomorrow evening at Old Trafford.
The Red Devils will then face the Villans again five days later at Villa Park in the Premier League, when they will be without both Luke Shaw and Scott McTominay, who will be suspended.
Interim manager Ralf Rangnick therefore has a lot of important decisions to make in his team selection tomorrow.
The boss told MUTV that 'We will definitely not play with eight or nine different players, or even 10, as we did against Young Boys in the Champions League.
'We will try to play with the best possible team, with a strong team. There might be a few changes but I haven't taken the final decisions yet myself. We will definitely try to play this game as if it was a normal Premier League or Champions League game.'
Given the superb form of David de Gea, the first thing this might mean is that no chances will be taken on giving Dean Henderson a run out in goal. The England man will have to continue to be patient to wait for his next opportunity.
The back line offers plenty of options. At full-back, Aaron Wan-Bissaka and Luke Shaw appeared to have won their places back over Diogo Dalot and Alex Telles. However, neither player covered himself in glory against Wolves and there is a strong argument for bringing the Portuguese and Brazilian back in, particularly as Shaw's suspension is looming.
At centre-back, Victor Lindelof is back in full training but Rangnick said captain Harry Maguire's fitness is still in doubt. Eric Bailly is away at the Africa Cup of Nations, but Phil Jones must be under consideration after his man-of-the-match performance last time out.
Maguire has, though, been spotted in training by The MEN.
On paper, Raphael Varane is United's best centre-back and should start. If Maguire is behind Lindelof in his recovery, the latter may partner Varane if Jones does not keep his place.
Rangnick may well stick to his usual 4-2-2-2 formation for the game but he could tweak slightly, bringing one of the twin number 10's further forward to create a 4-2-1-3. Scott McTominay will probably occupy one of the two holding midfield berths. Fred could be recalled alongside him, with Nemanja Matic being kept in cotton wool until Friday when the Scotsman is suspended.
Ronaldo and Cavani could be joined up front by one of Marcus Rashford, Mason Greenwood and Jadon Sancho.
Whilst Greenwood is arguably the best option on current form, we think Rangnick could persist with Sancho – he has to come good at some point, doesn't he? And if Ronaldo plays somewhere between CF and LW and Cavani plays in the middle, it would allow Sancho to play in his favoured RW role.
This would also allow Bruno Fernandes to occupy his usual number 10 role behind them.
The likes of Donny van de Beek, Anthony Martial, Jesse Lingard, Anthony Elanga and Juan Mata are also available but unlikely to start.
With all that in mind, here is our predicted XI for tomorrow's game: