Player Analysis: Norwich City target Giovane
Norwich City has registered interest in Brazilian teenager as they have sent their scouts for a report on 18 years old striker, Giovane, who currently plays for Corinthians on loan from Capivariano.
Norwich City are currently sitting at the bottom of the Premier League table with relegation glaring at them but that does not stop them from making plans for their next season and long-term future. The Canaries have evidently suffered from lack of goals with only Teemu Pukki reaching double figures but his service is also coming to dusk with aging. And, according to some reports by Goal Brasil over the weekend, they may be searching for some reinforcements from South America. According to the website, the Canaries are interested in Corinthians teenager Giovane, who is playing in the first team for the first time this season.
Who's Giovane?
Giovane, a striker, only required a little more than five months to establish himself as one of Corinthians' top prospects in the lower divisions. In his first season with Timo's under-20s, the 18-year-old scored more goals than he played. There were 17 goals and six assists in 21 games. Prior to joining Corinthians, the young attacker played for Red Bull Brasil, but due to a lack of ambition and family issues, he almost gave up football. After that, he was transferred to Capivariano from Capivari-SP, where he played in 11 games for the professional squad and scored three goals in the Paulisto Series A-3 match.
Playing style
Shirt 11, the left-handed, has excellent movement, allowing him to play openly on the flanks or more centrally. Giovane is a pacey youngster, has a knack of getting past his marker, Giovane is also a keen dribbler. He is fond of getting himself in open spaces to shoot and is often deployed as the central striker, dropping down occasionally. Giovane is also very effective in tight spaces. 
Through a few match shots, we will study his playing style:
In above image, Giovane (red circle) is about to receive a ball as he is closely marked by an opposition defender.
In a few seconds, he takes on 2 defenders and even fools one of them with a fake shot before eventually scoring the goal. He is pacey and likes to take on defenders 1 v 1 before dribbling past them.
A similar structure, he is about to receive the final ball with one defender closely marking him. 
A few seconds later, he easily goes past his marker and is about to shoot the ball (yes, a goal again).
Same old story of him receiving the ball with a marker on its tail.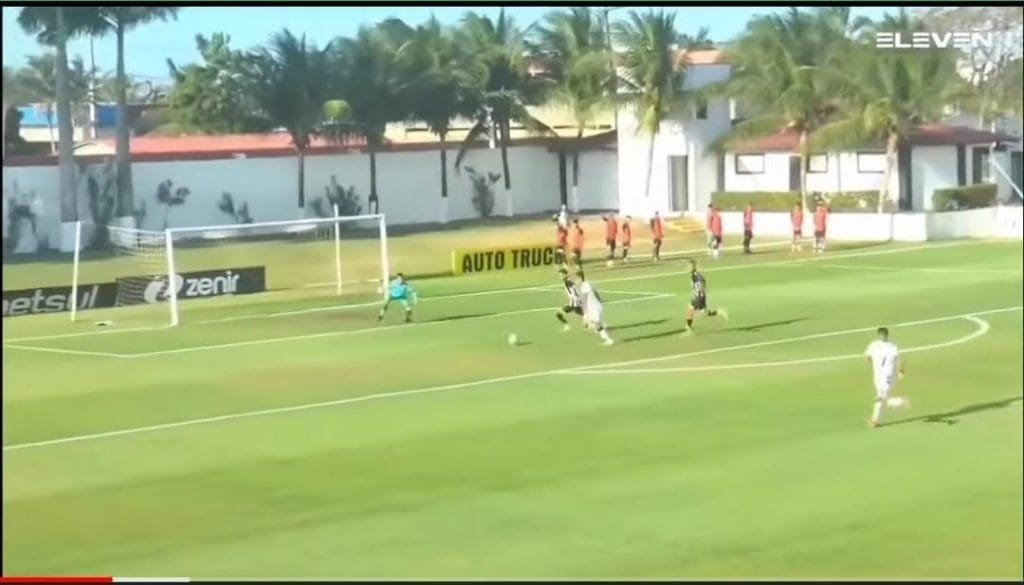 A few seconds later, he not only beats the defender with his pace but also he dribbles past him to find himself a clearer and a better view of the goal (again he scores).
A bit of a different setup, he receives the ball and runs towards the penalty box. 
In about three or so seconds, he dribbled past 2 defenders and again finds himself an open shot at goal (this time the ball hit the woodwork).
In this image, he is about to receive the ball in a semi crowded area.
At the time of receiving the ball, the opposition players close down on him thus not letting him to find himself a secluded spot to shoot the ball.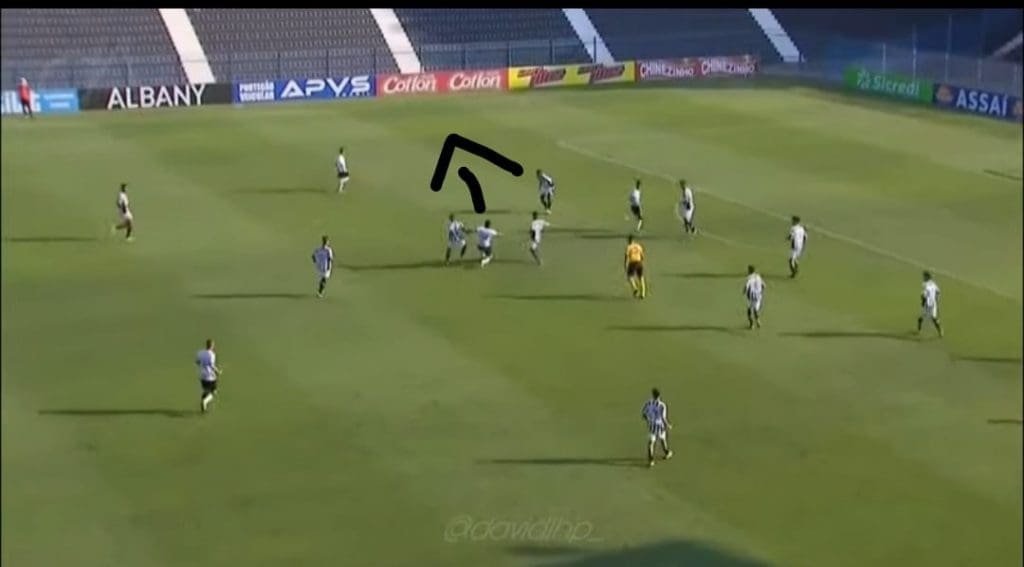 Instead of wandering there, he drops a bit down, dodges past his players, lures another defender to get close to him. Result? A through pass to his teammate on the left wing, a move that eventually ended up as a goal.
Giovane, is definetely not the solution to Norwich City's woes but surely can be an exciting addition to their squad no matter what division they play in.
*All the images are sourced from Youtube and elevensports*
Sao Paulo President – Marquinhos "didn't want to stay"
There's been a lot of coverage recently regarding the Brazilian media's enthusiasm for Marquinhos' transfer from Sao Paulo to Arsenal. Following numerous rumours stating that the Gunners' proposal had been accepted, journalist Jorge Nicola revealed yesterday quoting a source who said the move is taking place.
Sao Paulo president Julio Casares was interviewed by Sportv on Wednesday evening. He was queried about sales, and Marquinhos' departure was also highlighted. The official revealed that the winger is leaving the club owing to a contract dispute, but he did not specify where he will go.
"He didn't want to stay, we tried everything. Even before the game against Racing, where he blew up, he didn't want to stay. It was a contractual issue, that he had this condition," Casares told Sportv.
According to Globo Esporte, Marquinhos will join Arsenal for about €3.5 million. They point out that because of this, Paulo had to 'accelerate' his sale. This is because FIFA will not recognize the five-year contract he signed when he was underage. He is due to become a free agent this summer because he could only agree to a three-year contract, so the club decided to accept the Gunners' offer rather than lose him for nothing.
This will be Arsenal's second recent acquisition from the Brazilian market with winger Gabriel Martinelli also signed from the South American country. Mikel Arteta is building his side into a team with a blend of experience and youth. The likes of Bukayo Saka, Emile Smith Rowe, and Martin Odegaard have all flourished under the Spaniard and expectations will be very high for Marquinhos who is rated very highly among the club hierarchy.
Marquinhos is said to be in London already and have undergone his medical with a possibility of announcement down the week as Premier League comes to its conclusion.
Although this one looks like a bit different kind of an acquisition; Arsenal are trying to take advantage of a poorly negotiated contract by Sao Paulo here and Marquinhos' imminent arrival is likely to get him involved at either Hale End or possibly send him out on loan to get much-needed experience in his legs. Edu, alongside Per Mertesacker, have keenly invested in Arsenal's academy in the last couple of years and it looks like despite Mikel and his plans of acquisitions – the Gunners will continue to boost the pasture Hale End has always been to London Colney.
Barcelona offer Raphinha 200% of current wages
According to GOAL, Leeds United star Raphinha has agreed on personal terms with Barcelona ahead of a possible summer move to the Nou Camp. As Goal initially reported on Tuesday, it is known that the Brazilian will have his salary doubled if he joins the Spanish giants on a contract until 2027.
According to OUL Sports, Barcelona has made an opening bid of £55 million for the Brazilian sensation. Raphinha's current deal expires in the summer of 2024, and the player is willing to leave Elland Road. If Jesse Marsch's team are to keep the Brazilian's services, they must fight for Premier League survival. Raphinha's final game for Leeds is against Brentford on Sunday [22 May] and he will be more determined than anyone to keep the club in the Premier League.
Raphinha clearly cares for Leeds United, as evidenced by his response to Luke Ayling's red card and an emotional moment following the Whites' final home game of the season against Brighton. He certainly has the talent to play Champions League football, but he is of an age where he must develop for the sake of his career. Unfortunately for him, he will not be able to accomplish his ambitions at Elland Road.
A move to the Catalan outfit will provide the winger with the platform he needs to develop into one of Europe's top wingers. The Spanish giants are playing a waiting game to sign the winger, which is understandable given their current FFP troubles.
Xavi is reportedly keen on signing the Brazilian as the former Blaugrana player looks to rebuild his squad in the summer to challenge arch-rivals Real Madrid for next season's La Liga trophy.
Crystal Palace vs Man United: Match Preview
Crystal Palace are going into the last day of the season with nothing to play for but a higher midtable place, so this match doesn't really mean much to them apart from it being their last match and wanting to go out with a win to finish their season well for the fans. However, for Manchester United, this could be the difference between a failure and an absolute catastrophe. They are currently in 6th (Europa League spot) and are only 2 points above West Ham, so if they lose and West Ham wins, then they could be dropped into the Conference League, the third tier of European competition.
WHERE AND WHEN?
Venue: Selhurst Park.
Date: Sunday, 22nd May 2022.
Time: 16:00 (BST).
MATCH OFFICIALS
Referee: Martin Atkinson
Assistant referee: Constantine Hatzidakis, Richard West.
Fourth official: Josh Smith
VAR: Peter Banke
Assistant VAR: Natalie Aspinall.
TEAM NEWS
Manchester United manager Ralf Rangnick said this when asked about availability, "We, once again unfortunately, have quite a few players missing and another couple of players with question marks." The likes of Sancho, Shaw and Rashford are likely people with those question marks, but even if they aren't all of them can start from the get-go.
In an interview with Football London, Patrick Viera said this about star winger Micheal Olise, "Michael was injured. He had a step back and he's not going to play again this season." This means that he's not going to be playing against United, but that is their only injury, so they'll be faring better than United, injury-wise anyway.
MATCH ANALYSIS
Ralf Ragnick's side hasn't had the best season, so they'll be looking to end it stably with a Europa League finish. It's not exactly what the fans would have been dreaming of when they signed the likes of Ronaldo, Varane and Sancho, it's not the top 4 and it's definitely not the league title or Champions League title, but the Europa League isn't the worst situation in the world for United, even though saying that is a controversial opinion. They'll need to win this match, as it could decide the future of Manchester United.
Crystal Palace may have nothing to play for, but the difference between 14th and 10th could be looked back upon differently by fans in a few years' time, and money-wise, it would definitely help the club. Viera's side have built strongly this season, but the question in the summer will be if they can keep their foundations. A home win against Manchester United would be brilliant for the fans after losing at Everton would be a lovely way to finish the season.
KEY PLAYERS
CONOR GALLAGHER
Gallagher was benched against Everton, and after their collapse against the Toffees, Viera will probably put him back into the heart of the team. Gallagher had a spell of brilliance, but it seems that he isn't that same undroppable player he once was at Selhurst Park. And with his future in doubt, he'll want to play well going into the summer window, and also have the option to stay with the Eagles long term.
Conor Gallagher will also be able to exploit the likes of Dalot and Lindelöf by goading them out of position due to them tracking the wingers and that will help him to get the ball through to the likes of Eze and Mateta or to take it on himself by exploiting the spaces in and around them.
DIOGO DALOT
Dalot has been a solid right-back for Manchester United and has been able to give Wan-Bissaka some serious competition in that position. With reports coming out of incoming manager Eric Ten Hag's preference for the Portuguese international of his counterpart, it makes sense that Rangnick starts to prepare Dalot for regular first-team football next season.
The 23-year-old did well on his first Premier League start of the season against Arsenal last month, and he'll hope to have a similar impact against a team with similar attacking principles as the Gunners. With 8 ball recoveries and brilliant holding of possession against the North Londoners, he's been yet to have the same impact on a game but will hope to this time around.
PREDICTED XI
Crystal Palace predicted XI vs Man United: Butland; Mitchell, Guehi, Andersen, Clyne; Gallagher, Milivojević, Eze; Zaha, Mateta, Ayew.
Man United predicted XI vs Crystal Palace: De Gea; Dalot, Lindelöf, Varane, Telles; Fred, McTominay, Fernandes; Sancho, Elanga, Ronaldo.
READ MORE
– Manchester United and the Paul Pogba conundrum
– Profiling Manchester United target Gonçalo Inácio: What could he bring to Old Trafford?
– A potential return on the cards for Aaron Wan-Bissaka?