Liverpool vs Manchester United: Key clashes
The top 2 most successful teams of English top flight football will battle themselves out in Tuesday's mouth watering Premier League clash as Liverpool takes on the struggling Manchester United.
The Merseyside club had the last laugh when these 2 teams had faced each other back in October as the former cruised past Manchester United, 0-5 at Old Trafford. Once touted as arguably the League's best clash, at the moment The Merseysiders are the clear favorites. They proceeded to the finals of the FA Cup last weekend. With the League Cup already in their kitty and a place in the semi finals of the UEFA Champions League, and a major title contender to fetch the coveted PL title, the Jurgen Klopp managed side are in quest of a quadruple this season. On the other hand, it is the same old story for The Red Devils. A weekend loss for both Arsenal and Spurs has surely given a fresh sigh of relief as United are on the verge of missing out on a UEFA Champions League spot for the 3rd time post SAF's retirement. Having a record of 2 losses and 1 draw in the last 5 matches, United are struggling hard to cope with the other teams also aiming for the last Champions League spot.
Before both the teams lock horns on the field, let's look at some of the key clashes of the battle:
Virgil van Dijk vs Cristiano Ronaldo
The Dutchman has been a pillar in defense for Liverpool since his arrival to Anfield. Standing tall at 6'4, Van Dijk is a colossal figure at the back. Having yet to lose a game at Anfield, Van Dijk is in fine form this season. Averaging around 4.20 aerial wins per 90 Van Dijk falls in the 94 percentile among Europe's top 5 leagues. Up against him is Cristiano Ronaldo, a lethal threat in aerial duels. Coming back from a hat trick against Norwich City, CR7 will surely try to get his name on the scoresheet this time after his spectacular goal was disallowed in the reverse fixture. On Tuesday night, though, Ronaldo will have to fight extremely hard just to catch a glimpse of goal, as he will be up against the enormous Virgil van Dijk. An unstoppable force collides with an immovable object in this situation. Who will triumph? Time will tell if this is the case.
Trent Alexander-Arnold vs Jadon Sancho
The 23 years old English right back is arguably the world's best fullback at the moment. He falls in the 99 percentile of the following segments of the game: Assists (12), passes attempted, progressive passes, xA, shot creating actions, etc. This alone would indicate that Alexander-Arnold is active in assaults, but it is the variety of positions he takes up, as well as the range of passes he makes, that distinguishes him as a world-class playmaker. TAA possesses a tremendous burst of speed and who's better than Jadon Sancho to go head to head with him? United's summer recruit has had a below average start to the season but gradually he appears to be fitting comfortably. The Manchester City youth product is believed to be capable of producing something extraordinary if given the opportunity. Sancho will have to put in a defensive shift if he wants to keep Alex Telles from being exposed down the right wing.
Andrew Robertson vs Anthony Elanga
Liverpool superstar Andrew Robertson has had a more circuitous route to the top level than most others. In Klopp's 4-3-3 system, the fullbacks are responsible to push the ball forward into the final third. The Scottish falls in the 97 percentile in progressive passes among Europe's top 5 leagues. A great crosser of the ball, Robertson has assisted 10 times this season. Anthony Elanga's rise in the team has been an undeniable positive light in Manchester United's turbulent and disappointing season. Elanga has added an intensity and a directness to the side's performances in recent months. On the right flank of United's attack, Elanga has used his speed and trickery to great advantage. With 2 assists in his last game against Norwich, it is gonna be an exciting battle between these 2.
JORDAN HENDERSON VS BRUNO FERNANDES
Henderson has Premier League and Champions League championships to his record, and he, like his predecessor, has proven to be immensely flexible, playing in a number of situations since arriving at Anfield. The English midfielder's tenacity, along with his physical abilities, helped him to succeed in the role, essentially operating as a ball-winner while his more offensive teammates took center stage. He links the midfield to the attack and thus has bagged 2 goals and 5 assists this season already. Bruno Fernandes, has been United's best player for the past 1 year now. The Portuguese Magnifico is a dynamic and direct midfielder who orchestrates play and pulls the strings on a number of levels. He tries to dominate the tempo of the game by spraying passes frequently. He has a habit of attempting reckless through balls and losing possession. The quality of his passes and the opportunities he creates, on the other hand, more than compensate for it.
Huddersfield Town vs Nottingham Forest: Match Preview
Huddersfield Town and Nottingham Forest square off at Wembley Stadium on Sunday with a place in the Premier League up for grabs for the winner.
Helped by a strong second half to the season, the two clubs finished in third and fourth place respectively in the Championship standings and will feel that they deserve the opportunity to join Fulham and AFC Bournemouth in the English top flight.
Last season, Huddersfield and Forest finished in 20th and 17th respectively. This campaign, they have considerably transformed those fortunes. There was even a time when Nottingham Forest occupied the bottom spot in the division before Steve Cooper arrived at the helm. Such is the unpredictability of the division that the two clubs will square off once more for the coveted last place in the Premier League, and their spots in the showpiece are justified after outstanding years in the second tier.
Between December 4 and March 11, Huddersfield put together a 17-match unbeaten streak in the league, and just two defeats have come from 28 matches at this level.
Meanwhile, since Steve Cooper's first game in charge on September 25, Forest have accumulated 76 points from 38 games, the best return in the Championship regular campaign over that period. Makes you wonder what might have been had the Midlands club appointed the former Swansea boss heading into the 2021/22 campaign.
Forest conceded five goals fewer than any other team during that period, also the two clubs lost fewer games than Fulham and Bournemouth over the same stint.
Nevertheless, the playoffs were not straightforward clashes for both clubs who were tested to their limits. Huddersfield Town were pushed all the way by Luton Town, the Terriers requiring a late Jordan Rhodes in the second leg at the John Smith's Stadium to prevail 2-1 on aggregate.
The drama was saved for Nottingham Forest's reverse fixture with Sheffield United, Cooper's team seemingly home and dry when leading 3-1 on aggregate at half-time at the City Ground before the Blades took the game to extra time, even almost winning the tie in the final seconds of the added 30 minutes.
All of the momentum was with the visitors until the heroics of Forest goalkeeper Brice Samba, who saved three penalties to earn his team a spot at Wembley.
The fact that Nottingham Forest toiled under the weight of expectancy during the normal time will only encourage Huddersfield boss Carlos Corberan, and his team who were one of just a few teams to win a league fixture at the City Ground during 2020-21.
All things considered, that will certainly count for little.
The money and prestige on offer mean that both teams will be under intense pressure on Sunday, even if it is Forest who will be looking to end a 23-year absence from the big time.
Huddersfield supporters will be taking the positives from their last two playoff finals ending in victory, most notably five years ago when they defeated Reading on penalties to earn a first-ever appearance in the Premier League.
WHERE AND WHEN?
Venue: Wembley Stadium.
Date: Sunday, 29th May 2022.
Time: 16:30PM (BST).
MATCH OFFICIALS
Referee: Jonathan Moss.
Assistant referee: Marc Perry, Tim Wood.
Fourth official: Craig Pawson.
VAR: Paul Tierney.
Assistant VAR: Ian Hussin.
LEAGUE FORM (LAST SIX):
Huddersfield: WWWWDW
Nottingham Forest: WWLDWL
TEAM NEWS
Having proven his fitness with two substitute appearances during the playoffs, Keinan Davis could return in attack for Forest.
Steve Cooper will certainly need the Aston Villa man's energy, intensity, bullish strength and hold-up play in attack in order to take control of proceedings better than they managed last time out against Sheffield United in the second-leg of their Play-Off semi-final tie.
That would see Sam Surridge drop down to the substitutes' bench in what is likely to be the only alternation made by Cooper.
Huddersfield are hoping that Danny Ward can take his place down the centre of the front three after coming off injured during the second leg versus Luton.
Rhodes is on standby should the club's top goalscorer miss out, while Sorba Thomas will almost certainly come back into the team after shaking off a knee issue in time for the semi-finals.
Duane Holmes will likely miss out as Corberan may almost certainly show preference to a back three in order to match the formation of their opponents.
PLAYERS TO WATCH OUT FOR
LEVI COLWILL
The teenager has been a first-team regular in Huddersfield Town's promotion push ahead of their Championship Play-Off final, featuring in 29 of their 48 games.
There will almost certainly be scouts from a host of Premier League teams in attendance at Wembley, with Crystal Palace, Southampton, Everton, Arsenal and Brighton among the others who reportedly want the talented centre back.
The 19-year-old has been a monstrous and colossal presence at the back for Corberan's side, helping them to 11 of their impressive 20 clean sheets this campaign.
Throughout, he's averaged a scintillating 1.3 interceptions per game, 1.8 tackles, 4.1 clearances and also winning 65% of his total duels and 64% of his aerial duels highlighting his tremendous all-action defensive style at the heart of the Huddersfield backline.
Where his immediate future lies is unclear, with a host of Premier League clubs scouring for his services this summer. His parent club Chelsea do want him back for preseason in July, with a view to providing him with first-team opportunities next season, but even that looks unlikely seeing as Thomas Tuchel will certainly be strengthening an ageing backline.
Another loan move may be on the agenda for him, as his development and maturity is showing no signs of letting up. A stupendous defensive talent.
BRENNAN JOHNSON
Wales manager Robert Page certainly thinks Johnson could play for a top-six Premier League team now and those clubs who wanted him in January have seemingly missed out.
The Forest forward heads into Sunday's final on the back of a tremendous breakthrough season for club and country. "Brennan is the future of Welsh football and I think he's top-six (Premier League) now," Page said.
Arguably the most gifted footballer in the second tier, the 21-year-old holds a superb record heading into the Wembley showpiece, registering 18 goals and 10 assists in 48 outings for Steve Cooper's men.
Any chance Forest have of entering the Premier League for the first time in 23 years will again rest on his young and broad shoulders.
Exceptional work ethic, athleticism, dynamism, courage and technical ability on the flanks that even most wingers in the English top-flight would kill for.
Johnson is indeed a Premier League-quality player, and he'll be hoping he is gracing such a prestigious competition with his beloved boyhood club.
PREDICTED LINEUPS
Huddersfield predicted XI vs Nottingham Forest: Nicholls (GK); Lees, Hogg, Colwill; Pipa, Russell, O'Brien, Toffolo; Sinani, Ward, Thomas.
Nottingham Forest predicted XI vs Huddersfield: Samba (GK); Worrall, Cook, McKenna; Spence, Yates, Garner, Colback; Zinckernagel; Davis, Johnson.
SCORE PREDICTION
Huddersfield Town vs Nottingham Forest: 1-2
Why Eddie Nketiah staying makes sense for Arsenal
Eddie Nketiah staying at Arsenal is all but confirmed with David Ornstein reporting that the 22-year-old is now set to change his mind and sign a new deal with the club
Let's take a look at why it made so much sense for both parties in the end.
BUMPY ROAD
Nketiah came into the season off a really positive pre-season. But even with that in mind, he was still our 3rd striker in the pecking order. As the season went on, the opportunities were limited…
With both Aubameyang and Lacazette on the roster and wings spaces filled by genuine wingers, all of his appearances came in the cups. He started all of Arsenal's cup games up until the semi-finals of the Carabao Cup. He scored 5 in 5 games in the Carabao and 0 in 1 in the FA Cup.
Noted, most of these games, except one, came against non Premier League opposition and that makes it hard to stand out.
When Aubameyang left for Barca in January, Lacazette picked up form and Eddie found it hard to nail down a starting spot despite the rise in minutes. His off the bench appearances weren't enough for him to showcase just how much he's grown as a player.
"People have so many expectations of you, but bro I'm coming on for 9 minutes. We're winning 1-0, the aim is to hold on to the lead. When I've had substantial time like 15-20 (Palace, Wolves, Brighton), I'm able to do something and show myself." [Eddie Nketiah on @Podcast_TBG]
SPACE TO GROW
Lacazette's form dipped and the results warranted a change. Nketiah's minutes gradually increased until he became a nailed-on starter for the last 8 games in the Premier League.
With 5 goals in 8 games, he's shown he CAN be trusted. But goals don't tell the full story of his breakthrough this season.
We've seen a player who's matured. He wasn't getting pushed over, he used his body well in duels, he didn't have a problem with intricate plays outside of the box and he pressed well. And the stats back it up.
The sample size is small with ten '90s played but you can see how much of a well-rounded player he transformed into. He used to have noticeable balance and on-ball issues alongside the game being played at too fast of a pace for him sometimes. Ironically, his balance and speed of movement look like his strengths now. He ironed out a lot of his flaws and he keeps working on improving his skillset as a centre forward.
MUTUAL BENEFIT
He previously stated that he wants to get games on the regular but there aren't many Premier League clubs who in my opinion can offer that. Competition for places in this league is brutal, let alone for a 22-year-old striker. He would probably have to leave the league and drop down the level of the club he'd be playing for by a level or two.
Europa League, cups and acting as a deputy to the first striker seems like enough room for game time and continued improvement under Arteta.
With rumours over a new wage spike continuing to swirl, one has to question exactly why is that seen as that big of an issue? Arsenal will not find a similar level of a player who wants to be a "backup" for nothing less than £20m-£30m. In fact, Arsenal saved money by re-signing him.
Not only is his career on an upward trajectory, but his skillset is also very valuable and he's already shown he'll keep the starters on their toes and that's EXACTLY how you raise the level of competition in the squad.
MUST READ
– Arsenal haven't underachieved despite big UCL blunder
– Emile Smith-Rowe: Arsenal's Present & Future
– Martin Odegaard: Arsenal's very own Luka Modric
– Profiling Arsenal target Gabriel Jesus: What will he bring to the Emirates?
– Arsenal's next talented Hale End product: Brooke Norton-Cuffy – Scout Report
Does Richarlison emerge as stand-out option for Tottenham?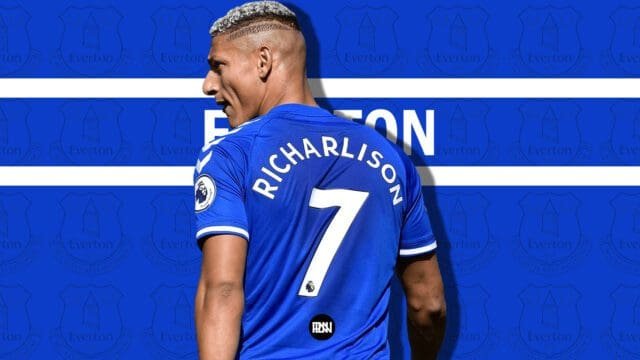 An exciting period of rejuvenation under Antonio Conte saw Tottenham Hotspur secure a coveted Champions League spot in the recently concluded 2021/22 Premier League campaign. Now, with reports suggesting the Italian's temptation to remain at the club despite having previously hinted at his ambition to move elsewhere ahead of the new campaign, Spurs are expected to spend lavishly in the transfer market as they look to bolster their squad in a bid to close the gap between them and the likes of Liverpool and Manchester City next season.
With certain positions expected to be addressed given the lack of quality personnel, Spurs will be keen on bagging their targets with minimal competition this summer, given the likelihood of numerous Premier League clubs needing to address key areas this summer. Moreover, with promising potential from across Europe and England's lower tiers likely to take a big step to the Premier League, Spurs will be looking to identify, strengthen and prepare their squad for a potential title challenge following the upcoming campaign.
While the likes of Filip Kostic, Alessandro Bastoni, and Ivan Perisic have been sounded out as key targets for Spurs this summer, recent reports from the Daily Mail Online suggest the North-London club have added Everton striker Richarlison to their potential list of attackers this summer. Having played a pivotal role in Everton's fight to avoid relegation, the Brazilian is expected to seek an ambitious given the club's financial precarities, despite being contracted to the club until 2024.
An Appetite To Succeed
With Spurs lacking an out-an-out backup to Harry Kane, the Brazilian's versatility and tenacity make him a perfect addition to pair up alongside the Englishman or serve as an added force to bolster the attacking third under Conte. A blistering six goal in nine league fixtures ensured Richarlison played a significant part in Everton's penultimate phase of the season, eventually culminating in the Merseyside club retaining their place in the Premier League for the forthcoming campaign.
Besides single-handedly guiding the team out of relegation, Richarlison remained pivotal to the team's prospects throughout a testing Premier League campaign. The Brazilian emerged as Everton's only player to hit double-digit figures in goal contributions (15) alongside having made the joint-fifth highest number of league appearances (30) in the recently concluded league season. Moreover, with Spurs in need of a Premier League proven option to compliment Harry Kane, the Brazilian serves as a refreshing candidate to fulfil the role.
A Transfer Soup
With numerous clubs reportedly interested in securing the 25-year-old striker's services, Spurs will be wary of engaging in a tussle for the Brazilian. Although Everton are yet to sound out potential suitors for the striker, given their need to raise funds through sales, Richarlison is likely to be listed on the transfer market sometime over the summer window.
Paris-Saint Germain are Real Madrid are reported to be the two other clubs interested in the player, however, with several promising strikers emerging across Europe, it remains unlikely the two European giants prioritize his signing over other areas this summer. Manchester United are the only other club expected to move for him provided they fail to land their priority striker, however, given their need to solidify other areas, it remains unlikely the Brazilian finds himself at Old Trafford next season.
While many expect Richarlison to remain at Everton given his long-term contract with the club, a tempting offer for his services could push the Toffees into considering a sale of their most valuable asset from last season. While the offering of a lucrative deal at Everton remains on the cards, given the club's need to prioritize adequate funds for Frank Lampard, the potentiality of securing a decent transfer fee could see the Toffees cash in on numerous players this summer. Valued between £45mn to £55mn, the Brazilian could emerge amongst one of six players reportedly expected to arrive at Tottenham this summer, with Conte expected to target silverware with the North-London club heading into the 2022/23 Premier League campaign.